All workshops are currently postponed until further notice. Please join mailing list to be kept informed of new dates.
Drawing, painting and mixed media workshops for all abilities, with relaxed teaching and a friendly atmosphere, helping you to push your limits and explore your creativity. I also run occasional workshops for schools, art societies, galleries and corporate clients.
I am a qualified Golden Artist Educator and I am able to share many new ideas and techniques for painting, using Acrylics, oils, QoR watercolours and mixed media. Tried and tested methods, from an enthusiastic working artist.
I have limited places on my art workshops. To receive all the latest details, please subscribe to the mailing list and opt in for 'Art Workshops' in your preferences.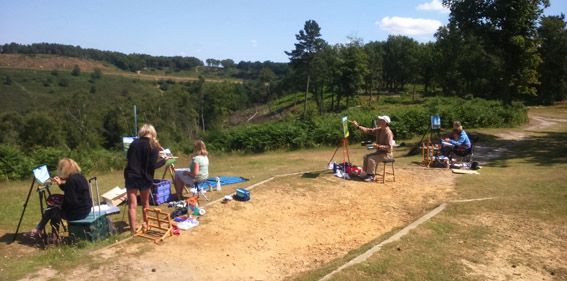 Spring Art Workshops 2020
Venue: Grayshott Village Hall, Headley Road, Grayshott, Hampshire GU26 6TZ.
Limited places; all abilities welcome.
'Daily Painting Practice' workshop,
Monday 17th February, 5 – 9pm
Learn the artist's habit of creating art on paper for daily practice, for pleasure and to develop ideas for paintings. Learn to paint from photos or life, using a range of simple materials and techniques, to free up your ideas and take away any pressure. Acrylics, mixed media and collage.
'Gestural Seascape Painting' workshop
Monday 23rd March, 5 – 9pm
Let go of detail and paint using gestural and expressive marks. Working on a larger scale and understanding how to simplify your composition to create an expressive representation of the seascape. Acrylics & mixed media.
'Painting Nature' workshop, with Acrylics, Textures & Glazes. Monday 6th April, 5 – 9pm
This workshop will give you a greater understanding of the advantages of using different textures, pastes, gels and fluids with your acrylics, or adding found mixed media. Create an exciting landscape or seascape painting with impasto areas or transparent glazed colour and experiment with new materials and techniques.
'Collaged Acrylic Landscapes' workshop,
Monday 27th April, 5 – 9pm
A dynamic approach to painting the landscape, incorporating painted collage, whilst working to improve mark-making, colour and composition. Great for all abilities, to help you develop a painting with expressive brushmarks and exciting composition.
'Unlocking the Abstract' workshop,
Monday 25th May, 5 – 9pm
Learn to free up your painting using process-led abstract ideas. This will help you to create an exciting abstract painting, improve your understanding of mark-making, tone and composition, using acrylics, mixed media and collage.
Please email if you are interested in organising a workshop, for more information or to be added to a waiting list. [email protected]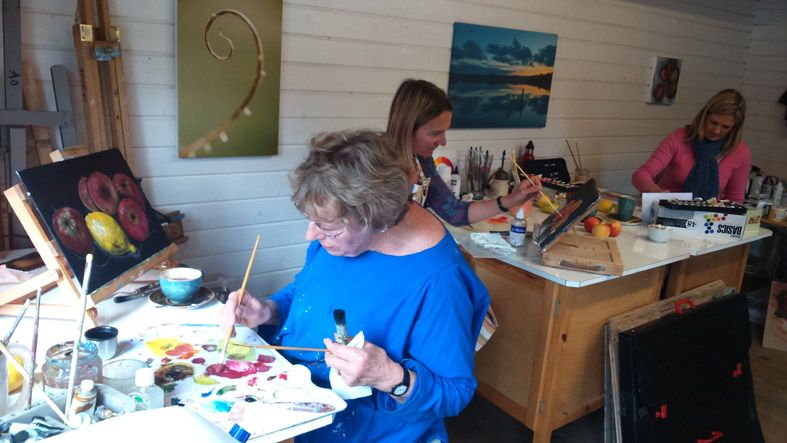 Some of the lovely feedback I receive from my workshops..."I had the most amazing day yesterday - I can't remember anything so enjoyable for a long time. Thank you for all your guidance and patience."
"Just to say thank you for yet another inspirational workshop. I always leave your wonderful classes buzzing with ideas and determined to follow all the good advice you give us and all the fun things that can be done. You have a wonderful way of illustrating and showing us "how to" that inspires us all. Looking forward to the next one."
"Thank you for the wonderful art classes recently, I have really enjoyed them and have continued to learn more on each session."